If you are a repeat visitor,
click reload to see new art.
Last updated 6/1/10.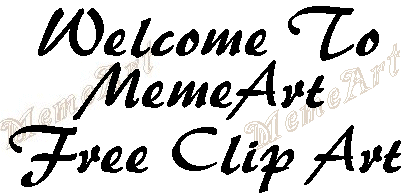 To view a page of clip art or animated gifs, click on a catagory below. Please do not link directly to any of the graphics on this site. Right click on the graphic you wish to use and then choose save as from the pop-up menu. Save the file in My Documents on your computer or on a disc. You may then upload the file onto your server or into your account and use it wherever you wish. Graphics found here may not be used on any commercial/business sites or sold! (Please read footnote!)
CLIPART & ANIMATED GIFS

Animated Babies
Teddy Bears
More Bears & Animated Bears
Animated Birds
Animated Birds 2
Animated Birds 3
Animated Clocks
Churches - Stained Glass
Animated Computers
Animated Cows
Crosses
Crosses Page2
Animated Crosses
Animated Dinosaurs & Dragons
Dogs
Animated Dogs
Animated Dolphins
Fall~Thanksgiving
Fall~Thanksgiving 2
Animated Fish
Animated Fish 2
Flowers
Frogs
Animated Flowers
Flower Welcome Signs & Dividers
Animated Gators
Animated Horses
US Landmarks
Animated Music 1
Animated Music 2
Religious1
Religious2
Animated Smileys
Animated Weather
PHOTOS
Bears
Cats (tame)
Cats (wild)
Top 60 Hunks
Top 60 Hunks Page 2
Lake Effects Page 1
Lake Effects Page 2
Lake Effects Page 3
CHIRSTMAS GIFS
ANIMATIONS

Lights & Candles
Santas
Snow-Snowmen
Christmas Trees

HOLIDAYS & SPECIAL OCCASIONS
ANIMATIONS
Valentine's Day
St. Patrick's Day
Easter

NEW ANIMATIONS - 10-25-05

Halloween Ghosts
Halloween Bats, Cats, & Witches
Halloween Pumpkins & Skeletons
Halloween Spiders, Dracula and More

ALL NEW PAGE!
Blood, Hearts, Heads, Haunted Houses

Thanksgiving
Thanksgiving 2




Be sure to bookmark this page so you can find your way back!
Please take time to vote for this site.



Clipart and animated gifs. Background Sets Weekly Devotion and Bible Study
Friendship Greetings Meme's Midis Web Design
Animations contained on this site were not created by MemeArt and to the best of my knowledge, all of them are free for non commercial use. Animations may not be resold, placed in any location where a membership or entrance fee is required to access them, or used on commercial/business web sites (including intranet and extranet sites) without the knowledge and prior permission of the artist.